This article first appeared in The Deal (the official magazine of the London Book Fair) in Spring 2009
Contrary to popular belief, small publishers are better placed to survive a recession than their larger competitors, says Jon Reed.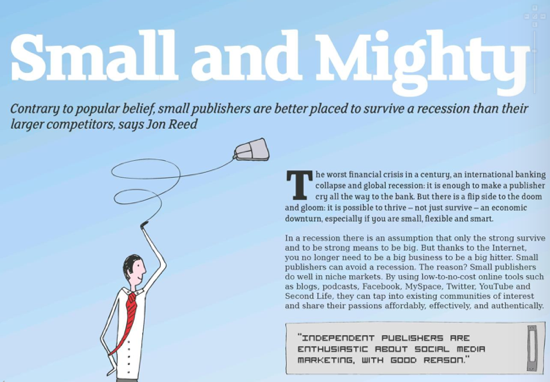 The worst financial crisis in a century, an international banking collapse and global recession: it is enough to make a publisher cry all the way to the bank. But there is a flip side to the doom and gloom:  It is possible to thrive — not just survive — in an economic downturn, especially if you are small, flexible and smart.
In a recession there is an assumption that only the strong survive and to be strong means to be big. But thanks to the Internet, you no longer need to be a big business to be a big hitter. Small publishers can avoid a recession. The reason? Small publishers do well in niche markets. Using low-to-no cost online tools such as blogs, podcasts, Facebook, MySpace, Twitter, YouTube and Second Life, they can tap into existing communities of interest and share their passions affordably, effectively, and authentically.
Great leveller
Independents are enthusiastic about social media marketing, with good reason. Paul Davighi,  marketing manager for I.B.Tauris, says: "Social media levels the playing field between media  giants and independents, since the scope and quality of the relationship between publisher and consumer can be the same for both."
It is possible to shun traditional marketing completely. Chris Hamilton-Emery, director of Salt Publishing, says: "since focusing on the web our sales increased 72% in 2007 and in 2008 trade sales rose 66%. We do no other forms of marketing now, so that increase can only be down to our web presence. Getting the web right is — in our view — a key business competency now." Salt's website gets 1.6 million hits a month — and in the notoriously difficult business of poetry publishing. It works because poetry has a niche audience.
In the so-called "attention economy", people spend more time online. And, if we buy books online shouldn't they be marketed there too? Furthermore, using the new online tools can raise your profile while keeping costs under control.
More is more
In a recession, the first instinct of a large corporation is to slash marketing. Yet less marketing never leads to more sales. A recession is no time to cut back on marketing activities, but you may be able to cut your marketing budget at the same time as reaching out to new customers.
For a small press, online tools provide cheap and egalitarian access to markets. Andrea See,  marketing executive for Canongate, says: "Because we spend less money on big budget ad campaigns and are directly in touch with our readers at a grassroots level, any future budget cuts will have less of an impact on our marketing activity than they might do at a corporate publisher."
Blogging works well because it's "free, genuine and real", according to Will Atkinson, chair of the Independent Publishers Guild, a UK trade body with over 480 members. A book launch in Second Life is cheaper than in real life. It costs nothing but a few minutes to set up a Facebook group, page or event.
The time commitment to some tools may be greater than corporates can endure, but many small presses are motivated enough to put in the hours. Jan Fortune-Wood, founder of Cinnamon Press, says: "Cinnamon Press is ours, not something we 'work for', so giving it the extra hours demanded by these tools is integral to what we love doing rather than an add-on to an already busy job."
It is important to involve authors, and many are more than happy to be asked. Again, when it comes to blogging, independents tend to do better than their corporate rivals because social media is a personal medium. "A small independent has a more authentic and individual voice and a large conglomerate," Canongate's Andrea See says.
But authors handle social media better than anybody. While many big publishers don't even know if their authors have blogs, independents do and are keen to exploit them. In 2008 to the Independent Alliance of publishers, led by Faber & Faber and including Quercus, offered blogging workshops to their authors.
Iain Millar,  Marketing manager at Quercus, says: "Where authors have distinctive voices or are involved in niche subjects,  blogs tend to work very well. Jonathan Black, the author of our esoteric non-fiction book The Secret History of the World
built up quite a following on his 2008 blog and it really made an impact on sales."
Community building
Social media is a commitment rather than a marketing tactic, and those publishers who make the time and have the enthusiasm make it work. It's about building relationships — something independents have always handled well. "Independents find and create genuine communities", Faber's Atkinson says. "They talk to them."
See agrees:  "The fact that we have already developed relationships at this level as a primary strategy gives us an advantage over larger publishers who might use it as a fallback when budgets are cut." Canongate can be found on most social networking sites, but is currently focusing efforts on its online community site, Meet at the Gate.
One online community with a surprising number of independents is a virtual world Second Life, whose residents include Canongate, Snowbooks, Cinnamon Press, Flying Pen Press and eHarlequin.  Niches such as poetry, romance and erotica do particularly well in this global, online community, as author and fiction editor at Bluechrome Adele Ward explains: "Second Life can be very low cost or free to use, yet any small publisher with a presence becomes known across the SL writing and reading community very quickly."
Ward, known as Jilly Kidd in Second Life, is something of a virtual community organiser, facilitating much of the writing and publishing activities in-world (SL jargon for the things that happen in its virtual world), including hosting 'Meet an Author', a chat show on the SL television station SLCN.  She tells The Deal: "I want to help publishers out during the recession and the independents will certainly be among the ones I'll be very keen to give free space. That is an advantage to being small – we help each other out." It's hard to imagine such touchy-feely attitudes among the big publishers.
WHAT MAKES YOU SPECIAL?
A recession can be brutal. It compresses business evolution into a mercilessly short space of time. It is no time to be average. Think carefully about your USP, your core strengths, your niche and your communities of interest. Adjust your positioning if necessary. A small business can adapt, change, reposition more effectively than a big one. If you've got what people want, you can do well. And if you haven't, you may struggle. Follow the money, and focus your sales and marketing efforts on those products people want. The market is always right.
EIGHT WAYS TO MONETISE YOUR WEBSITE
Your website is usually a marketing tool to promote your books, build relationships with readers and reach new ones. But how can you make it work harder for you?
Advertising. Google AdSense of matches ads to your site's content and you earn whenever visitors click them. Easy to set up, harder to make real cash without a dizzying amount of traffic.
Sponsorship. Sell airspace on your podcast for relevant audio ads.
Affiliate accounts. The obvious one is Amazon Associates, but other schemes, including Commission Junction, might be suitable for products related to your books.
Premium content. Always keep some of your content free, but offer an additional tier of content — articles, audio or video — that is available only by subscription or membership.
Paid posts.  Charge people to post on your blog. The format lends itself to adverts for jobs or events, and you can charge via PayPal using a WordPress plug-in.
Monetise your feed. Use Feedburner to include ads in your RSS feed.
Merchandise. Depending on your business, you may be able to develop merchandise and sell it on line.
Donations. Not for everyone, but a 'tips jar' is a favourite of many bloggers. It is quick and easy to set up a simple donation button at PayPal.